25.4.2022
Mundo-J, Brussels, Belgium
Workshop: Upskilling migrants through DIVERSITY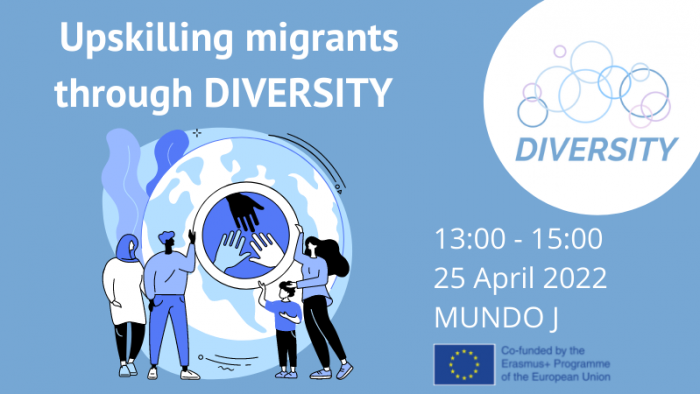 EAEA is organising the final multiplier event to present the work done for DIVERSITY: Including Migrants through Organisational Development and Programme Planning in Adult Education.
The aim of DIVERSITY was to accompany the EU adult education systems in the mentality shift from focusing on migrants as distinct target groups and preparing them for integration into the society around them, toward including migrants in the providers' regular programs as an equal target group to actively and directly foster diversity and inclusion in adult education and in society.
We would like to invite you to a complimentary lunch and presentation of the final outputs on Monday, 25th of April 2022, between 13:00 and 15:00 at Mundo-J in Brussels. 
AGENDA:
13:00 – 13:30 Complimentary lunch in Paulo Freire room
13:30 – 13:40 Video presentation of the project by the project coordinator, dr. Eva Heesen
13:40 – 14:00 Researching European adult education
14:00 – 14:30 Modularized curricula
14:30 – 15:00 Policy recommendations