EAEA event:
The Power of Adult Learning and Education: A Vision for the EU Neighborhood [CANCELLED]
The forum will gather member organisations of the EAEA and policy makers from countries outside the EU (Eastern and Southeastern Europe). It aims at intensifying advocacy activities and raising the awareness of various stakeholders regarding European adult learning and education (ALE) outside the EU. The challenges of the European countries neighboring the EU shall be brought on the agenda of existing global/EU frameworks that are relevant for EAEA non-EU members in the field.
This event has been cancelled due to the COVID-19 pandemic.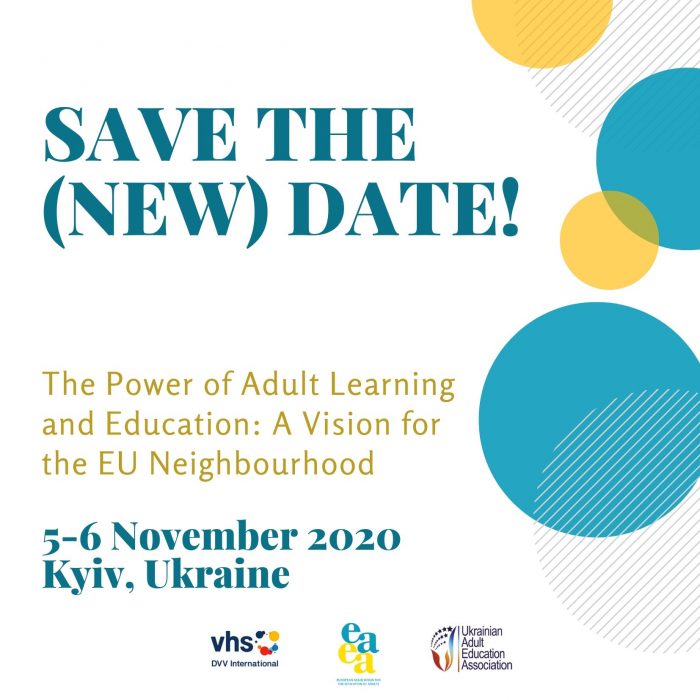 The discussions will focus on the diverse aspects of support to civil society organisations in the region in contributing to the CONFINTEA process and building grounds for a regional report on relevant topics of the Belem Framework for Action: policy, governance, financing, quality, participation.
During the forum overviews on national ALE systems from partner countries will be presented and best practices/success stories and actual challenges will be jointly reflected.
During a side event, we'll also discuss how EAEA can work closer with members from outside the EU.
The event will be co-organised by the European Association for the Education of Adults, EAEA ordinary member Ukrainian Adult Education Association and DVV International Ukraine.
More information:
Should you have questions, please contact aleksandra.kozyra [at] eaea.org.