EAEA event:
EAEA General Assembly, Grundtvig Award Ceremony and Annual Conference 2023
The EAEA annual events 2023 will take place in Zagreb, Croatia on 6-7 June, co-organised by EAEA member DANTE.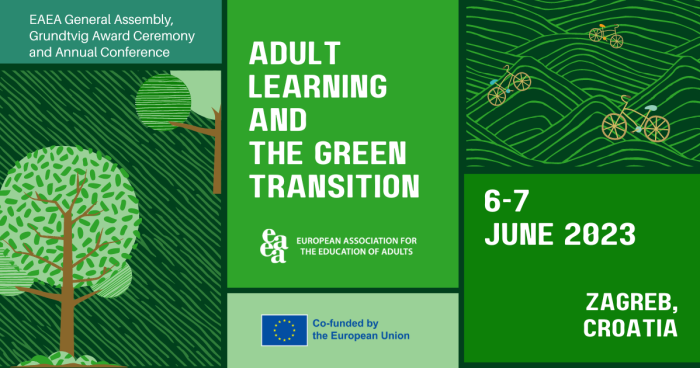 Join the EAEA General Assembly on 6 June to discuss key policy issues at the European and global level together with our members, and to get to know the new Executive Board of EAEA. In the evening, celebrate the winners of the Grundtvig Award and their innovative approaches to the green transition in adult learning.
Sign up for the Annual Conference on Adult Learning and the Green Transition on 7 June to discuss how adult learning can help us build a more sustainable world in times of crisis. We'll explore the topic together with learners, educators, policymakers and activists by looking closer at learning in communities, and strategies for a just green transition.
Find out more from the conference website and sign up to participate by 30 April.