26.6.2019
Copenhagen
27.6.2019
EAEA event:
EAEA General Assembly, Grundtvig Award and Annual Conference: Life skills and participation
In 2019, EAEA will hold its annual events on 26 and 27 June in cooperation with the Danish Adult Education Association (DAEA).  We hope you'll join us in Copenhagen to discuss life skills and participation!
The updated programme is now available.
Registrations are open! Register here before 31 May.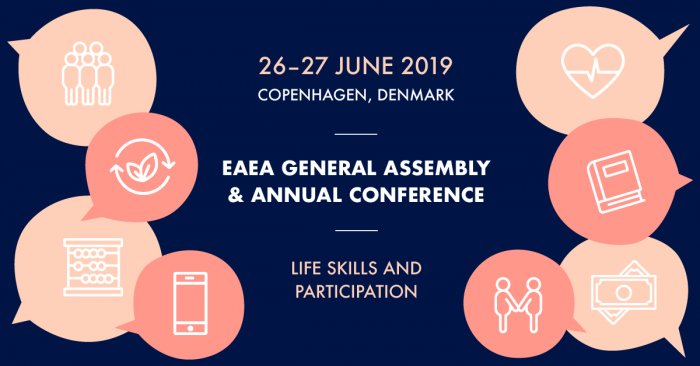 We are delighted to announce that the General Assembly and Annual Conference will take place in Vartov, a historical building dating back to early Copenhagen, which is now run by the Grundtvigsk Forum and hosts lectures, discussions, and other cultural and adult education activities.
The General Assembly will gather EAEA members to discuss EAEA past and future work, and to elect a new President and Executive Board.
The Grundtvig Award Ceremony will celebrate excellent and innovative European and national projects that foster life skills, and will be followed by a festive dinner. Both will be held at the newly opened restaurant Brahe Pavillon (formerly known at restaurant Cassiopeia), overlooking Skt. Jørgen´s lake.
During the Annual Conference, we'll bring together different perspectives and practices on life skills, focusing especially on how they can foster a more learner-centred approach in adult learning.
Please note that EAEA will ask for a financial contribution to cover the subsistence costs of the events:
General Assembly (26 June): 30 EUR
Grundtvig Award Ceremony (26 June): no fee
Festive dinner (26 June): 45 EUR
Annual Conference (27 June): 75 EUR
More information:
Should you have any questions about the events, please contact Matthias Jespers at matthias.jespers (at) eaea.org