As EAEA we are very concerned about the challenges of Europe linked to skills and competences, from digitalisation to democracy to employability. The 2019 European elections are an opportunity to shape the our vision of a Learning Europe with all necessary skills, knowledge and competences. EAEA aims to strengthen adult learning and education at the European level and raise its visibility among the candidates for the upcoming European elections in May 2019.
Adult education helps change lives and transform societies – it is a human right and common good. EAEA manifesto outlines how adult education contributes to the positive development of Europe, its transformative possibilities and the power and joy of learning.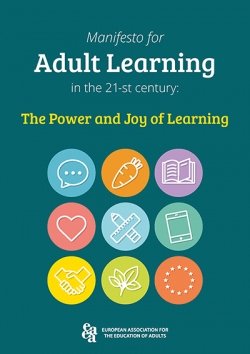 However, solid public investments in adult education organisations and adult learners need to be made. Adult education needs to be clearly framed within an overall lifelong learning strategy that takes into account and gives equal importance to all sectors and all forms of learning (formal, non-formal and informal).
Questions to the MEP candidates
Candidates for Members of the European Parliament can support EAEA's vision and goals for the future of Europe. Therefore, on behalf of millions of adult learners and educators, EAEA has asked it's members to contact candidates and invite them to become "Supporter of Adult Learning and Education", and share their visions about a Learning Europe. We want to know how committed MEP candidates are to promote adult education in Europe.
We asked MEP candidates to answer to the following questions:
What does lifelong learning mean to you?
How will you support the promotion of adult education and lifelong learning if you are elected?
In your opinion and experience, how can different disadvantaged groups (elderly, migrants etc.) be included in lifelong learning in order to support their social inclusion?
What do you see as the role for non-formal adult education in helping to implement EU educational policy?
How will you support the work of civil society actors in promoting adult education?
Candidates can still email their responses, name, political group and country and we will add them as an "Adult Learning & Education supporter" on our website. A photograph and the logo of the party can also be added. Replies can be sent to Gina Ebner, EAEA Secretary-General, gina.ebner(at)eaea.org
Support adult education in social media
We invite the MEP candidates, EAEA members, adult learners and educators to use hashtag #ALEsupporter and #EUelections2019 to post their opinions how to strengthen adult learning and education at the European level.