To take part, use hashtags #ALEsupporter #EUelections2019 and #adulteducation on Twitter and on Facebook. You can also tag MEP candidates in your posts. Vote for a candidate who is committed to promote a Learning Europe!
Upload the pictures you can use in social media posts:
Active citizenship and democracy
Health and Well-being
Life skills for individuals
Social cohesion, equity and equality
Employment and work
Digitalisation
Migration & demographic change
Sustainability
European & international policies
(After opening the picture, click "save as")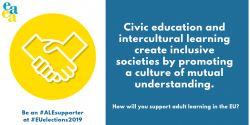 Questions to MEP candidates
We have also contacted MEP candidates with the help of our members and invited them to become "Supporter of Adult Learning and Education", and share their visions about a Learning Europe. Read the replies we have received from MEP candidates so far.