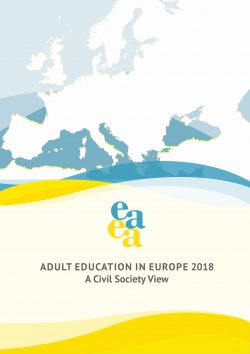 The country specific information on adult education policy can possibly act as a tool for  influencing the European Semester, the cycle of yearly economic and structural policy coordination from the European Commission.
Adult Education in Europe 2018 – A Civil Society View provides you with the opportunity to:
Inform your colleagues across Europe – but also policy makers at different levels – on what you think about the main developments in adult education in your country;
Compare your situation with that of other organisations in Europe;
Get inspired and propose ideas and good practices to colleagues and policy-makers across Europe;
Additionally, in a few years a more long-term comparison of developments will be possible.
The publication is available online in PDF form and as a hard copy at EAEA Secretariat in Brussels.
For more information check: