The fact that an overwhelming majority of refugees have smartphones has already sparked a fierce debate, and has been used to question their fragile status. The claim that smartphones are only available for the most privileged ones has memorably been disputed by the Independent, in a powerfully entitled article.
The United Nations also provide statistics proving the ubiquity of mobile phones, estimating that out of the 7 billion people on Earth, over 6 billion now have access to a functioning mobile phone. To put this number into perspective, it should be remembered that only 4.5 billion people have access to a toilet.
In view of this, it is no wonder that so many refugees have been photographed with smartphones, frequently described as their "lifelines". There seems to be no exaggeration in using this comparison. As news of refugee boats capsizing regularly make headlines, ibitimes recounts another story: that of a young Syrian who used WhatsApp to ask for help when his boat started sinking in the Aegean Sea. By giving the coordinates to the coast guard, he managed to save the lives of everyone on the boat.
Smartphone apps for refugees – what's on the menu?
Refugees can now use smartphones to safely navigate their way through the host country also thanks to a number of tools developed specifically with them in mind. InfoAid, a Hungarian application available in a few languages, aims to counteract the existing misinformation and provides reliable updates on border closings and transport details. An aid station in Serbia works to a similar end, automatically redirecting users to a website with verified information on local prices, toilet locations and other practicalities.
The examples are mounting, proving that smartphones can support refugees in meeting their most immediate needs and subsequently facilitate their integration. Refugees Welcome, popularly dubbed "CouchSurfing for refugees", helps refugees across Europe find potential hosts. Reading Coach designed by Språkkraft in Sweden aids in language learning, starting with tweets of 10 words and ultimately moving on to novels. Some applications are multifunctional: the German Ankommen contains not only a language course, but also provides users with information on local asylum and employment services, as well as cultural norms, including articles on freedom of religion and gender equality. The list is far from exhaustive; in fact, there is even an application collecting information about all refugee initiatives, called simply the Refugee Projects.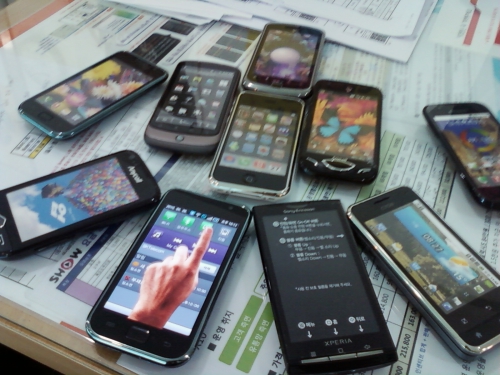 For refugees, by refugees
Interestingly, smartphones provide an opportunity for refugees to not only use the information provided, but also to create the content themselves and get involved in the new community. An application with updates on the most pertinent information for refugees in Turkey has been developed by a Syrian refugee and subsequently downloaded by thousands of users. Similarly, residents of Haus Leo in Berlin, a group home for refugees, have researched and developed an interactive map that includes relevant laws, services, "and even halal restaurants". Yet another initiative, Yallah Deutschland, offers journalistic material prepared by a team of "refugees, migrants, Arabic expats and Germans". Often taking stereotypes heads-on, the app includes tongue-in-cheek videos in which refugees comment on the dos and don'ts in their new country.
As the refugees' engagement cannot go unnoticed, it should come as no surprise that a German organisation started holding coding classes for refugees. Known as Refugees on Rails, the programme aims to help refugees develop their skills as software developers. After getting off the ground in Berlin, the initiative expanded into more German cities, and some European ones have already expressed their interest in adopting it for their local purposes.

Smartphones and learning: how does it work?
ICT-enhanced learning, including mobile learning, has already been widely discussed in the context of integration of migrants. Some publications recognize two main purposes of ICT use among migrants: bonding; that is, using ICT tools to keep in touch with the home country, and bridging – using them to integrate into the host society.
The latter often taps into the concept of a "smart city", one that uses applications to facilitate urban life and increase citizens' involvement. In this sense, a city environment has been described as a perfect setting for "incidental learning", where "people can learn every day, informally, yet with the assistance of a smartphone and in conjunction with support structures that could be provided by organizations working with immigrants." The benefits are many: as mobile applications often include diagnostic tools, they can make learning more personalized, focused on individual strengths and weaknesses. At the same time, the device used for learning is easy to carry around and can be used anywhere.
Can anything go wrong?
The advantages of mobile learning notwithstanding, one question should not be overlooked: can applications be designed in the same way for both migrants and refugees? After all, with Europe never experiencing an influx of refugees of such dimensions, most of the existing research focuses solely on the integration of migrants. Still, there are some notable constraints that need to be taken into consideration in the case of refugees.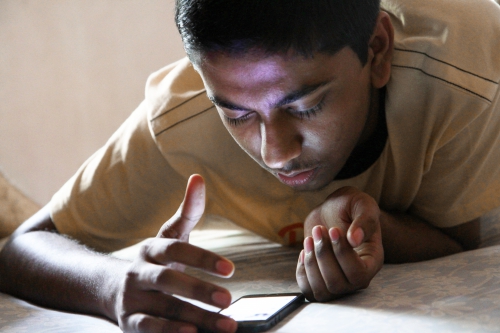 The availability of Wi-Fi is one important barrier: while some European cities offer free Wi-Fi zones, this has yet to become a common standard, which makes it necessary for mobile applications to be available for offline use. Also, given the precarious situation of many refugees, the applications should be provided free of charge, and preferably stay open source.
Yet another concern often raised involves data protection. With many refugees hesitant to provide personal information, the obligation to create an account might effectively discourage them from using certain tools. It also seems that few organisations offer trainings for those who cannot keep up with new technologies and can struggle with the use of smartphones, let alone complex applications.
Smartphone applications certainly do not represent the ultimate solution to integrate refugees into a new community; neither can they replace the help of trainers in honing language or citizenship skills. Nevertheless, they seem to offer remarkable support in discovering the unknown city and engaging the newcomers, both as users and creators of valuable content. As such, their importance should not be overlooked.
This article is a part of the article series" Adult Education & Refugees", which is one of EAEA's key topics in 2016.
Text: Aleksandra KozyraPhotos: Fotomovimiento, Gustave Deghilage, Mi-Chang Kim, Pabak Sarkar