EAEA event:
Introduction to adult learning in Europe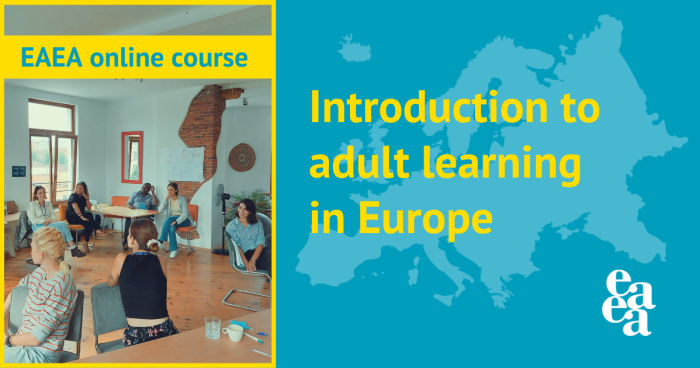 This course will introduce you to the very concept of non-formal adult learning, and how adult learning is practiced across the continent. Through a series of short videos and complementary reading activities, you will explore inspiring methods and approaches that foster learning among adults from all walks of life: from community education in Ireland, to learning in libraries in Ukraine. The course will include four modules, which will be made available online between October and December.
– Module 1: Adult learning: concepts and definitions (2 lessons), available 10 October 2023
– Module 2: Adult learning practice in Europe (6 lessons), available 31 October 2023
– Module 3: Adult learning methods (4 lessons), available in 21 November 2023
– Module 4: Policy and advocacy in adult learning (4 lessons), available 12 December 2023
The course is available on EAEA Moodle. You need to register to Moodle to access the modules.