The EAEA General Assembly and Annual Conference were held at Hotel International, Zagreb 6-7 June, gathering 120 participants from 26 countries. The interest in the events showed that green transition is a very relevant topic in the field of adult learning and education.
"Are we rearranging the furniture on the Titanic?"
In his opening of the Annual Conference, Ivan Ivanković from the City of Zagreb described the urgency of the work that must be done towards a greener society: "We are on a stream roller track, rolling down as the track is laid out in front of us." Ivanković said that the City of Zagreb is working on multiple fronts to advance the green transition.
In his keynote presentation, Professor Arjen Wals from Wageningen University presented multiple thought-provoking viewpoints on the green transition. "We shouldn't optimise a failing system. Are we rearranging the furniture on the Titanic or changing the course of the ship?" asked Wals.
We are good at drawing boundaries, but we should search for connections

Arjen Wals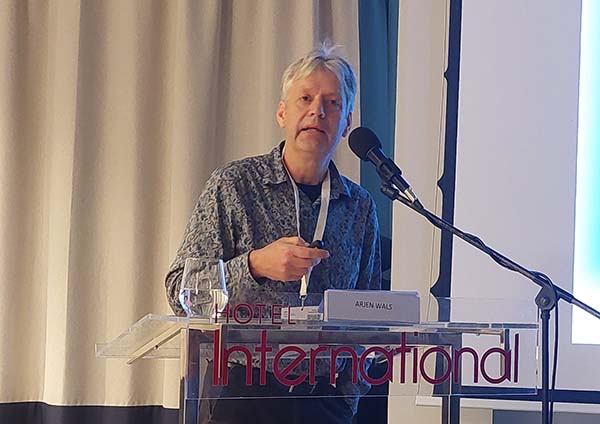 "There are many myths about the climate that are used to confuse people. This is very challenging for educators, too," said Wals, criticising videophilia and calling for more critical media literacy. According to Wals, we are drowning in information but starving for wisdom. People look for simple answers to complex issues. However, it's difficult to look for any answers when we are constantly distracted. Wals suggested that education needs to become more responsible and responsive:
"We are very good at drawing boundaries, but we should search for connections. A lot of young people are trying to make sense of the world and question things. How can education become more responsive to this, more imaginative?" asked Wals.
Wals also called for new adult learning and education forms, including transformative, transgressive, and transdisciplinary learning. He proposed that we need to foster a pedagogy of hope and bring different actors and generations together.
"We shouldn't forget to educate the middle-aged who may have a huge ecological footprint."
"It all starts from a paradigm shift in relationship with nature"
At the roundtable discussion on green transition as a political issue, the speakers urged that adult educators and researchers should foster learners' understanding of and connection with their natural environment.
"We have been able to change in the past, so we can do it now as well," said Eeva Furman from the Finnish National Commission on Sustainable Development. "We need to emphasise how planetary well-being and human well-being are connected and communicate that it's possible to make the change. It all starts from a paradigm shift in relationship with nature."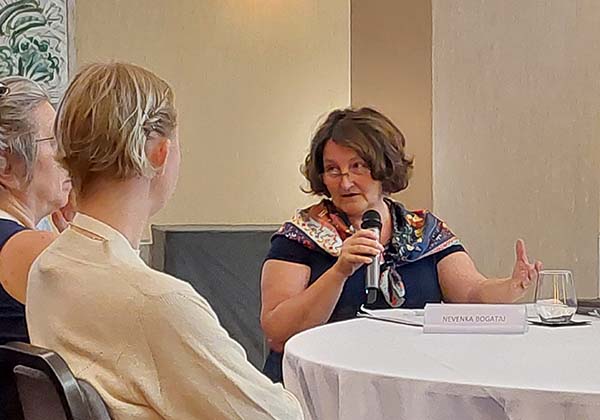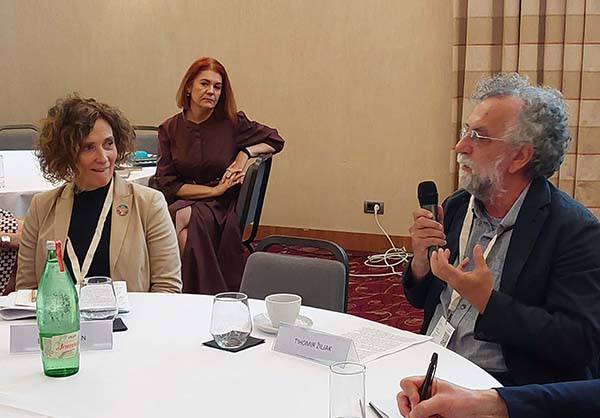 According to Furman, the most needed green skills are an open mind and imagination. Nevenka Bogataj from the Slovenian Institute for Adult Education also pointed out that green skills must be local and place-based.
Tihomir Žiljak from Open University Zagreb emphasised the need to empower the bottom-up approach to environmental topics, starting from local issues and learners' needs. Researchers can also be activists:
"I am trying to combine the power of science with activism," said Žiljak. "A good scientist should also be a passionate activist!"
Shared interests will create motivation and change
The second roundtable discussion focused on learners' voices on the green transition. The panellists, Maria Hourigan and Margaret Browning from Ireland, Stelios Zografidis from Greece, and Klara Pavić from Croatia took part in the discussion and shared their experience of the importance of creating space for the people in the community to come together.
"We need to trust people that come together on seemingly minor interests because these interests when shared will create motivation and change," said Maria Hourigan from Roscommon Women's network.
"We don't need much but we need policies that let us have a say in how our neighbourhoods, our cities, and our people are evolving," said Stelios Zografidis, who is part of the "Let's change it" group at ASTO. The goal of the group is to make small but important changes in the city of Patras with a focus on sustainability.
Enabling and encouraging creativity is also crucial.
"We wanted to prioritise using natural and recyclable materials for the day-to-day products that we all use. And to do that we had to create it," said Maria Hourigan sharing an example of making sustainable cosmetics.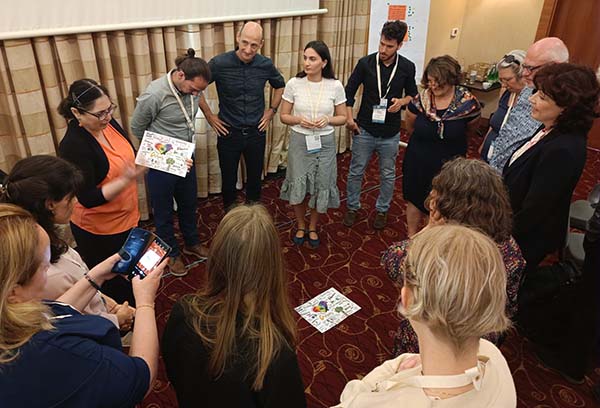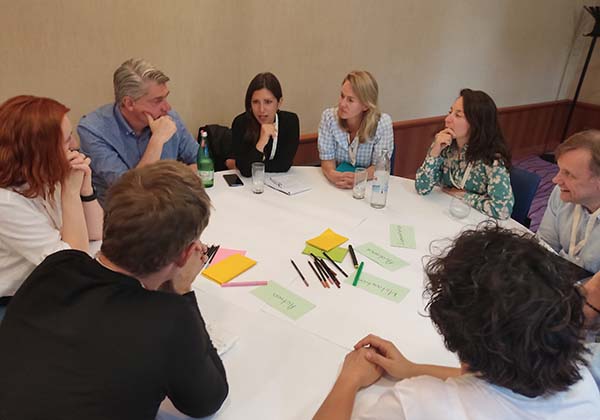 Adult learning should foster activism and dialogue
One of the parallel workshops discussed how adult learning can create a space for active dialogue and address misinformation about the green transition. The facilitators Stefan Grasgruber-Kerl and Katarina Stekić invited participants to reflect on the best communication processes and share methodologies they have tried for political engagement.
"We need to engage with people through open and participatory discussion, not lectures, so that we promote the feeling of the moment, creating relationships," suggested John Evers, who participated in the workshop.
The other parallel workshops explored building green partnerships, embedding green skills and environmental capabilities in adult education courses, and how adult learning can provide a space for political activism to address the climate crisis.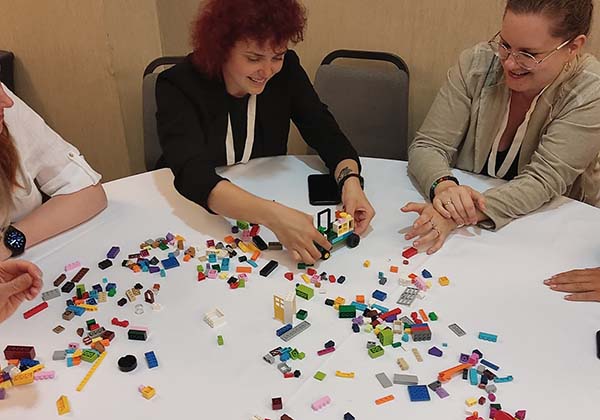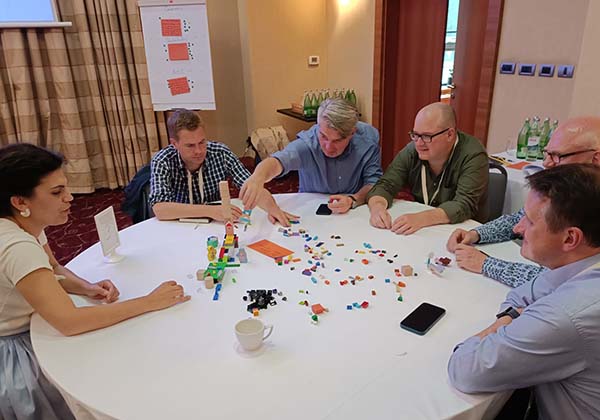 Strategies for green transition take time to build
Two world cafes engaged participants to discuss, how adult learning can better support communities in the green transition, and how to build a more strategic approach.
At the green communities world cafe it was suggested that the perfect learning community is green, transferable, but fragile. We must have diversity and promote multiple learning sources and worlds. Through different visualisations, the participants reflected on the way ahead which goes from obstacles to understanding and finally to change and evolution.
The participants of the world café on strategies brought up that there is a lack of clear vision on how sustainable adult learning and education policies could look like. Also, strategies for the green transition take a long time to build, but sometimes they collapse quickly when the political environment changes. Robust strategies need to include learning communities, education providers, learners, educators, and all other stakeholders.
Often there are inconsistencies between what is planned, the capabilities of the organisations, and the outcomes. Even when there are great ideas and the implementation works well, there is a lack of monitoring and quality assurance.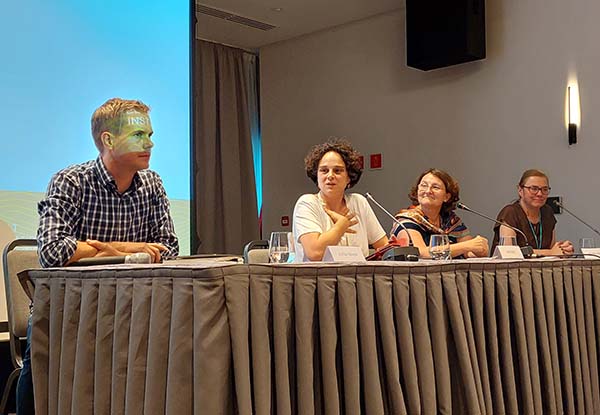 Replace a culture of fear with a pedagogy of hope
At the final panel discussion, Anna Roditi from Asto, Greece shared her story of collective action and growing ecosystem:
"When we started free planting in our neighbourhoods we would see people stealing the plants at first. Moving on we saw that people started replanting and watering the plants. Our ecosystem is growing and people choose to be part of it."
How could we make the small green initiatives bigger? EAEA Executive Board member Gustav Fridolin asked the panellists.
"We can bring them to the forefront and multiply them through educators and learners. We can also use them to highlight the way forward, the way through the complexity," suggested Gina Ebner from EAEA.
We should engage in collective action and replace a culture of fear with a pedagogy of hope, concluded the panellists. One of the main takeaways from the conference was that to make the change toward a greener future we need activism, empathy, and the ability to imagine.
***
The EAEA Annual Conference on Adult Learning and the Green Transition was an official partner event of the EU Green Week 2023. 
The annual events were hosted by EAEA's member, Adult Education Institute Dante from Rijeka. In 2024, the events will take place in Helsinki, Finland.