Making your voice heard at the EU level: influencing EU policy in adult learning through advocacy (November-December 2020)
What can you do in your own context to make an impact at the EU level? Who should you target, and how can they best be reached?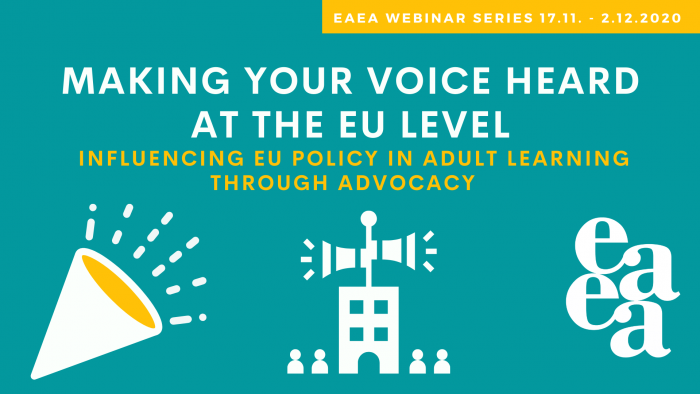 EAEA has invited representatives of the European Commission, the European Parliament and the European Council to introduce EAEA members to policy development and implementation and adult learning, and to suggest how they can get involved in the process.
Registration: contact Aleksandra Kozyra at aleksandra.kozyra [at] eaea.org (EAEA members only).
Making your voice heard: foundations of advocacy in adult learning and education (October-November 2020)
What are the steps to good advocacy? How can you map and engage relevant stakeholders? Once you have secured an appointment with someone you have been trying to reach for months, how do you make the best out of a short meeting?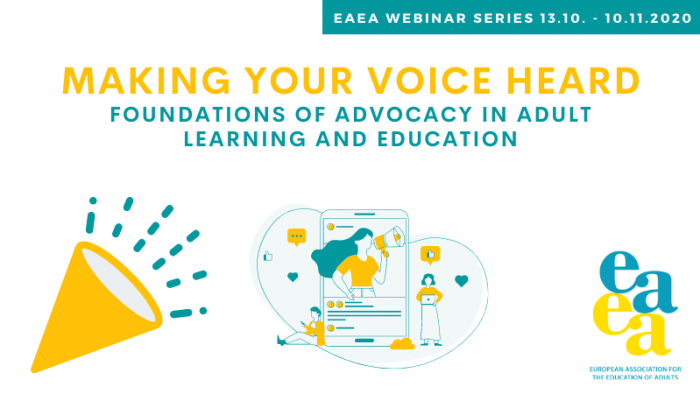 Over the course of five weeks, EAEA will introduce its members to key issues in advocacy through a series of webinars with experts in the field. Join us every Tuesday at 11:00 am CEST from 13 October until 10 November.
Registration: contact Aleksandra Kozyra at aleksandra.kozyra [at] eaea.org (EAEA members only).
Younger Staff Training
EAEA YST 2020
The EAEA Younger Staff Training of 2020 has been cancelled due to the concerns around the COVID-19 pandemic.
If you wish to participate in the next edition, please signal your interest to Aleksandra Kozyra at aleksandra.kozyra [at] eaea.org.
What is the YST?
The EAEA Younger Staff Training is organised annually to bring together young professionals in adult education in Europe. Aiming to explore the diversity of policy and practice across the continent, the training includes a series of input sessions, hands-on workshops and study visits.
By the end of the training, the participants:
Have learnt about the diversity of policy and practice in adult education in Europe by comparing their professional experiences and national challenges
Are familiar with the main challenges in European adult education sector and the role of European civil society
Have gained a basic understanding of regional differences in the definition and traditions of adult education in Europe
Are able to identify major EU policy frameworks in the field of adult education
Are familiar with the main methods that can be used for advocacy
Have received practical advice for writing project applications on adult education.
Practical information
Dates: TBA
Venue: Brussels, Belgium
Training fee: 400 EUR + 100 EUR of the registration fee (500 EUR in total). All participants will be asked to pay a registration fee (amounting to 100 EUR) before the registration ends to secure their spot.
Registration: TBA
More information
Background
Since 2011, EAEA has organised an annual training "European Adult Education and Lifelong Learning – Introduction for younger staff", a.k.a. Younger Staff Training (YST), in Brussels, Belgium. The objectives are to learn about European developments in adult education and lifelong learning, to understand advocacy work at European level, to exchange information and knowledge about each others' organisations and adult education backgrounds, to learn about EAEA and other key civil society organisations.
In 2015, the YST was taken online, as the EAEA-coordinated AE-PRO project organised its first e-training, based on the contents of the real-life course.
Methodology and outcomes
The methodology of the trainings is mixed: part of the seminar, the participants will work self-directed, parts will consist of study visits. There will be discussions and working groups. Participants will meet with representatives of the European institutions, which will give them the opportunity to discuss developments with them. The training is also a launching pad for further training activities and networking. Participant's feedback on their needs and interests will be a crucial part of the training.
As an outcome of past trainings, EAEA Younger Staff Network has been established. It will be extended in order to continue to be updated about European developments and form a group of young experts for EAEA but also their own organisations to tap into.
Study visits
EAEA organises study visits under request of its members. If you want to get more familiar with the European level of adult education, please come and visit us! Contact EAEA office for details.