Associate Member

Західноукраїнський ресурсний центр - The West-Ukrainian Resource Center NGO Development Foundation
Who we are?
FRHO "WURC" is in Lviv, Ukraine. Its scope extends to the western region of Ukraine. FRHO "WURC" collaborates extensively with local economic development experts and consultants, academics and journalists. We try to combine the best efforts of highly qualified specialists in the performance of our goals and program objectives.
What we do?

Organizational development and applied skills training for local communities and self-governance. Our experts work at national level.
Field consulting and support to local communities and self-governance, including: development of local teams and initiative (core) groups, development of local action plans, support in fundraising and grant-making, support in the development of project documents, supply of literature, technical support.
Grant proposal analysis and small grant support to local communities and self-governance, small project support and follow-up at local level.
Training and consulting on migration safety, including legal migration/visa procedures, basics of study/work abroad, and basics of trafficking /child labour abuse prevention.
Distribution of information materials through our partnership network of NGOs, local government and self-governance and local initiative groups. Management of information campaigns at regional level.
Research of social/economic processes, including: all types of polls, focus groups, expert discussions, development of questionnaires and supporting documents, primary data processing (Excel, SPSS), analytic processing of research data. We have a network of interviewers in all regions (oblasts) with accent on the western part of Ukraine, 2 supervisors and 3 research development/analysis experts.
Organization and management of business training/consulting on: effective negotiations, organizational development, fundamentals of marketing, teambuilding and some related applied areas.
Conference service. Organization and management of events, including conferences, press conferences, round table discussions, trainer workshops, open space discussions and some related forms of events.
Organization and management of cultural exchange trips for student and professional groups to Germany, Poland and other countries together with international partners.
EAEA brings together
120 organisations from 43 countries.
Members in Ukraine
Associate member
Центр "Європейська освіта дорослих" - Public Centre "European Education of Adults"
The mission is to develop the system of non-formal adult education for the formation of the life-long learning community of...
Read more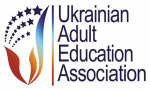 Ordinary member
Ukrainian Adult Education Association (UAEA)
The purpose of Ukrainian Adult Education Association (UAEA) is the establishment and the development of adult education in Ukraine and the...
Read more
Members by country
a
b
c
d
e
f
g
h
i
j
k
l
m
n
o
p
q
r
s
t
u
v
w
x
y
z
X
Republic of North Macedonia