21.9.
Brussels
2:00 pm to 25.9. 5:00 pm
EAEA event:
EAEA Younger Staff Training 2020
Organised annually since 2011, the training brings together young professionals in adult education to discuss the diversity of policy and practice in Europe.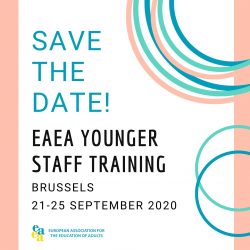 Throughout five days of input sessions, interactive workshops and study visits, the participants will reflect on key issues in adult education, such as policy and advocacy, fitting their national or local context into the larger European picture. In 2020, a special focus will be on the UN's Sustainable Development Goals, and how adult education provision can raise awareness of sustainability.
Registrations will open in spring 2020. For more information about the programme or practical details, please contact aleksandra.kozyra [at] eaea.org.
A complete list of EAEA events and trainings in 2020 is available in this document.