EAEA event:
EAEA Executive Staff Training
The first edition of the EAEA Executive Staff Training will provide a space for exchange among decision-makers at European adult education institutions and will offer in-depth information into EU policy level in adult education and lifelong learning. Through a series of meetings with key representatives of the European Commission and Members of the European Parliament, the participants will get closer insight into the EU decision-making process, new developments following the appointment of the new European Commission (2019-2024), and into how to target their advocacy to reach both the national and EU level.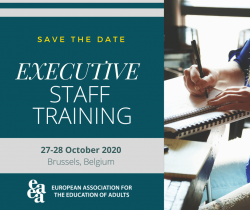 The EAEA Executive Training will be the first of a series of trainings between decision-level representatives of European adult education organisations on topical issues in adult education.
Applications will open in spring 2020. For more information about the programme and practical information, please contact aleksandra.kozyra [at] eaea.org.
For more information about EAEA events in 2020, please consult this document.